IPW 2024: Sales material distribution
New York City/State Co-Op Sales Material Distribution
Friday, May 3 - Tuesday, May 7, (2024)
Los Angeles Convention Center
If you are interested in attending IPW in person and participating in our co-op booth, learn more here:
U.S. Travel Association's IPW 2024 will be held from May 3-7 at the Los Angeles Convention Center, California! IPW is THE premier international marketplace for the tourism industry, connecting your business to travel professionals from across the globe! Past IPWs can be attributed to generating $5.5 billion in future travel to the USA by connecting suppliers just like you to travel buyers and media!
U.S. Travel Association's IPW is NOT a typical tradeshow. In just three days of intense pre-scheduled business appointments and endless networking opportunities, travel organizations from every region of the USA and international and domestic buyers from more than 70 countries conduct business negotiations resulting in real future sales. At IPW, buyers and sellers will build relationships that would otherwise only be generated through an exhaustive number of around-the-world trips.
Why Participate in Alon's Material Distribution Program at IPW:

International buyers come to IPW to shop the USA! Alon has developed trusted relationships with buyers in almost all categories who come to us looking for New York Products. If you cannot attend IPW in person, this is an opportunity to stay front-of-mind with the international market!
Maximize your limited marketing budget – let the world know your business is ready to welcome international visitors.
Get your brand in front of buyers throughout the world – Alon will have your material on display at our highly trafficked corner booth, don't lose the opportunity to be seen by approximately 1,400 delegates.

Let Alon start the conversation while you run your business. An Alon team member will introduce your material to each buyer who visits the booth

Get new leads – You will have access to our complete lead list and will be sent an introductory email to every buyer!
What's Included:
Display of your sales material at Alon's high-traffic corner booth
Mention of your company name to buyers as they check-in for appointments, including discussion of your USP
Creation of co-op sales collateral (digital) and individual collateral distribution on-site
Assistance with individual tradeshow material preparation
Booth supplies and set-up/breakdown of booth space
An initial follow up email to each appointment (thorough follow-up to be completed by each co-op material distribution supplier)
Complete buyer list of appointments for follow-ups and records
Who Attends IPW:
US Travel Organizations representing all categories of the industry from across the country
International & Domestic Leisure buyers
International Meeting & Incentive buyers
International & Domestic Journalists
International Advisory Committee Representatives, Visit USA Representatives, and U.S. Government Commercial Service
Marketing & Technology providers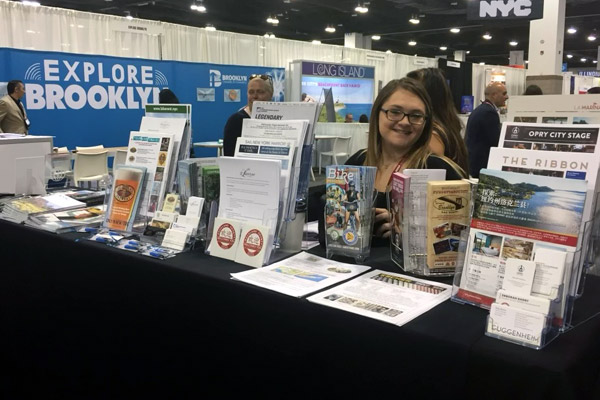 Sign up for updates: IPW 2024
We are now taking expression of interest for our IPW 2024 Sales Material Distribution program, so drop us a line if you'd like to stay in the loop for participation once announced.