While we clearly understood how and why travel came to a virtual standstill during covid, we are less knowledgeable as to how today's "uncertain" economy is and will continue to affect travel. It pays to regularly check for expert research from companies like Destination Analysts and organizations like USTA who provide national perspectives and trends. State and regional CVB's and DMO's are resources who provide updated research and visitor statistics about their destinations.
Articles providing updated research on consumer confidence provides a broad sense of what individuals might be feeling and if and how they are spending; the difficulty is in translating those "sentiments" into something that businesses can utilize to their benefit. Much economic information remains speculative, but it makes sense to examine where we are now, what is changing and what trends travel industry leaders are projecting that can be utilized for a destination or a destination products advantage.
The New Norm
The threat of a recession has been with us the past few years and consumer behavior as a reaction to inflation was initially top-of-mind. Inflation continues to exist but receives less notoriety; consumers (reluctantly) accept that higher prices are the "new norm," and consumers simply make that a part of their decision-making. While changes in attitudes and spending habits have taken root in people's lives since inflation began, they also have become part of how travelers make decisions about where to travel and how much to spend while traveling.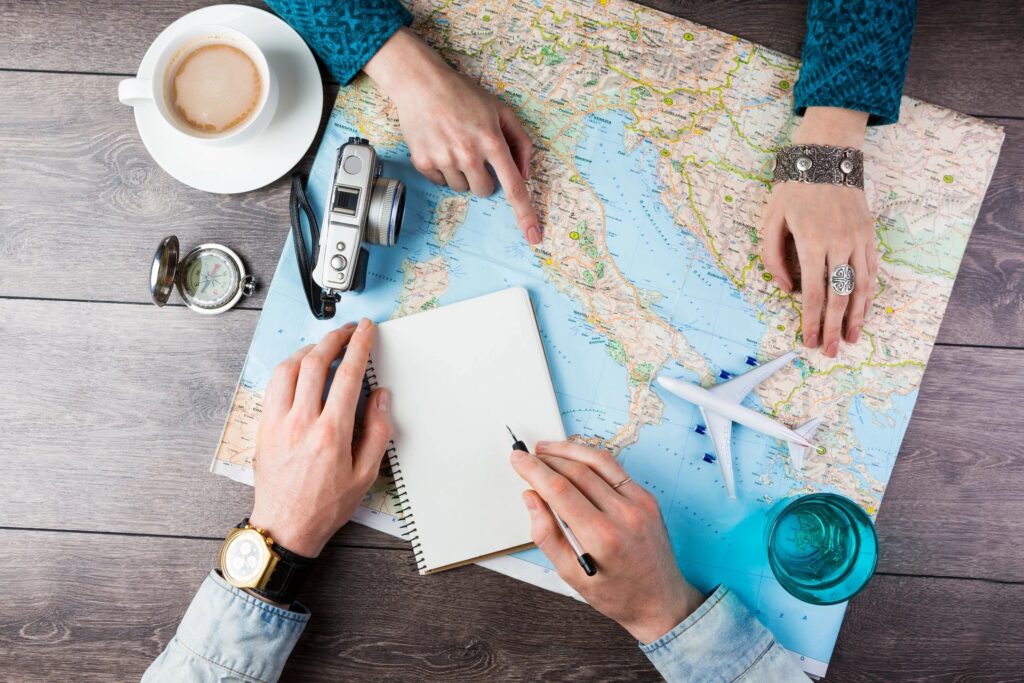 The Slow-down in the Surge in Domestic Travel
There's no doubt the "post-pandemic" surge in domestic travel has slowed and is returning to a more normal rate of growth. Additionally, originally, destinations that offered travelers the ability to enjoy outdoor activities enjoyed an increase of visits. When people were free to begin travelling, the number of visitors enjoying outdoor recreation increased by 20% . Offering outdoor experiences will remain popular with travelers, but it is no longer the deciding factor. Most people are now also comfortable visiting cities and attending crowded events.
The Rise in International Outbound Travel
Post-pandemic travel fueled the surge in domestic travel. Traveling abroad was considered risky, given the status of any particular country's percentage of covid cases and the restrictions on entry. The easing of restrictions and the strong dollar, have created a greater interest in traveling abroad, further reducing the potential for demand and growth in domestic travel. 
Driving Visitor Traffic to Your Destination
IF travelers accept inflation as the "new norm" but economic uncertainty is still a part of consumer sentiment and IF there's a leveling of the playing field because most travelers are not reticent to be in more crowded locations and IF the dollar makes travel abroad more appealing, how does that translate to positioning a destination in the U.S. as able to increase their visitor numbers?
"All inclusive" travel packages are more popular than ever with the offer of experiences and luxury. While these packages were traditionally offered exclusively by resorts and cruise lines, it makes sense that more hotel chains or any accommodation property could also offer overnight stays with added amenities including meals and other "experiences" that offer a more "fulsome" travel experience. This is an opportunity to be creative. Beachside accommodations can include surfing lessons, kayaking or other rentals; city accommodations can include tour packages and attraction tickets. Bottom line, offering travelers "all inclusive" or even "added value" packages will provide them with less uncertainty regarding overall spending. This is appealing in an uncertain economy.
Promote the "freebies" in a destination to increase value to a traveler. Even if an accommodation has restrictions regarding including other products in their pricing, it minimally can position their accommodation as having experiences and events that can be easily engaged with while staying at their property  Whether it's a street fair or public performance in a nearby park (in a city) or a visit to public outdoor recreational areas, farm market or conservation location (in a rural destination), include those experiences in the sales pitch on line and in social media.   
"Customer Experience" (CX) has replaced "Customer Service" as the buzzword phrase in the service industry. And the travel experience is all about service; the connection between a positive customer experience  and increased uptake on your travel product is undeniable.  There is much discussion on how AI can improve the customer experience via digital personalization, but if the frontline people in your company are not dedicated to providing an enhanced customer experience at every touchpoint, there is no app that will overcome that Faultline.
Growth Opportunity: The International Inbound Visitor Market 
According to USTA, the greatest opportunity for growth in the challenging travel industry is the international inbound market. Despite the strong dollar, there continues to be interest from international travelers to visit the U.S. and the recovery numbers allow for greater growth from this market, in the near future. Certainly, the information provided above about increasing a destination's share of the visitor market applies to this market as well.
However, unlike much of the domestic market, attracting international visitors is almost wholly dependent on knowledge of how that market operates. It may surprise many to learn that the best way to reach an international audience is to engage in business to business (B2B) partnerships with the travel trade (third party resellers of travel). Most fundamentally, knowledge of how to describe, present, and price destination product is critical to engaging the travel trade for the purpose of selling product to potential visitors to the U.S. If this is your first foray into the international market, start by looking for U.S. based reseller companies, "inbound operators", who sell product through their global distribution network. This enables you to have a few key contacts but reach hundreds of potential customers. IITA (International Inbound Travel Association) is a nonprofit trade organization whose mission is to grow inbound travel to the USA. Their members include inbound receptive operators, DMOs and tourism suppliers across the USA, bridging the gap to help grow relationships between their members through advocacy, their annual Summit, and education, such as the Steps to Success program offered in collaboration with Alon. Partnering with IITA is an excellent first step in gaining access to these key travel trade partners.
Developing a Successful International Visitor Outreach Program 
Alon Tourism Solutions has over twenty-five years in the travel industry, working with both "Buyers" and "Sellers" in both the domestic and international visitor market. Reach out to us today to discuss consulting services or education programs that may be available to you. If you are a DMO, ask us about how we can help you bring "Steps to Success" to your destinations and expand your stakeholder's knowledge of how to position, present and price their product to successfully engage with the international visitor market via productive relationships with the travel trade that result in increased sales.

Written by Jean Guinup